The Story of Reuben's Room Cat Rescue
Rumor has it that the term 'crazy cat lady' is a direct result of Jeanine Buckner and her crazy love for cats. Jeanine has always been a cat lover, and for years she dreamed of opening her own cat rescue. Finally, after years of encouragement from some of her friends, and some wonderful people who promised to help her and volunteer as often as they could, Reuben's Room Cat Rescue was born. As a vet assistant Jeanine could see first hand that the older the cat got, the less likely it would be to find the cat a new home. Jeanine could also see first hand how a companion cat could help a senior citizen live a better life. When Jeanine started Reuben's Room there were no rescues that dealt with re-homing domesticated cats of all ages. There were also no rescues eager to work with senior citizens. Reuben's Room was founded on the concept of filling both of those needs. Since it's beginning Reuben's Room has operated on the premise that seniors often need companionship, and cats can often fill that roll. Reuben's Room has cats of all ages residing at the rescue, but there are always several cats that would be perfect for a senior who needs some company. Jeanine truly enjoys matching the right personality of one of her cats to the personality of a senior who is going to be adopting a cat from the rescue. Thanks to our 'Worry Free Adoption for Seniors', Reuben's Room does not have to consider age when determining an adoption application. In fact, Reuben's Room has placed cats with 100+ years old senior citizens.
For years Jeanine Buckner dreamed of starting a cat rescue complete with a sanctuary for cats that are no longer candidates for adoption. A rescue that would re-home the domesticated cats that other rescues would not accept. And a rescue that would make it possible for a senior citizen to have just the right cat to keep them company. That dream became Reuben's Room Cat Rescue.
Calling All Animal Lovers-Urgent!
A good Samaritan found a little 6 week old kitten living in the bushes near her home. The lady who found the kitten knew that the kitten had a major eye problem so she rushed the kitten to the nearest vet office. The people at Kentwood Cat Clinic were wonderful. But they had to give the bad news to the kitten's savior: either the kitten had sugery and have both eyes removed, or euthansia. The Good Samaritan is on a fixed income, and cannot afford the testing, surgery, & other medical services the kitten needs in order to be free of pain & adoptable. Inspite of the lack of funds, Kentwood Cat Clinic decided to do the surgery and try to raise the funds via a "gofundme" drive. The surgery and all necessary prep, testing, and any other medical needs that are diagnosed is likely to cost approx. $3000. We are asking animal lovers to look into their hearts and see if they can help with these costs. If you can help please go to:

http://www.gofundme.com/savekittenstevie
Note: the gofundme account has been closed

Your donation will fund one or more of the following for Stevie:
-medical testing
-surgery to remove both infected eyes
-anesthesia for surgery & pain medication post surgery
-any other medical services determined necessary upon results of testing
-spay surgery
-rabies vaccine
-series of 2 feline leukemia vaccines
-series of 3 distemper vaccines
-microchipping services
-food/shelter/litter at Reuben's Room

If we meet our goal, Stevie will be able to go to her new home at Reuben's Room upon receiving the treatment she needs at Kentwood Cat Clinic in Grand Rapids, MI.

A huge THANK YOU from Kentwood Cat Clinic & Reuben's Room for helping Stevie become pain-free, healthy, & enabling her to meet her new Reuben's Room family!

Reuben's Room is a 501 (c) (3) non-profit, all volunteer cat rescue & no-kill sanctuary located in Grand Rapids, MI.

**Donations to this cause are tax deductible.**
Reuben's Room will have to set up special accommodations to meet Stevie's needs, so we are included in the gofundme requests. However, obviously Stevie's medical needs come first. If the gofundme account does not reach the $3000 goal, Reuben's Room will find a way to accommodate our little blind girl.
But we are hoping Stevie's stay with us will be short. We will be looking for a foster home where this little gal can enjoy life in her own home. Or, even better, we would love to find her forever home.
Note-check out these pictures! Stevie's surgery went great, and the little gal is a quick study and is handling her blindness just fine. If you would like to see a video of Stevie at work, playing really hard, go to our facebook page via the banner at the bottom of this page.
Before
After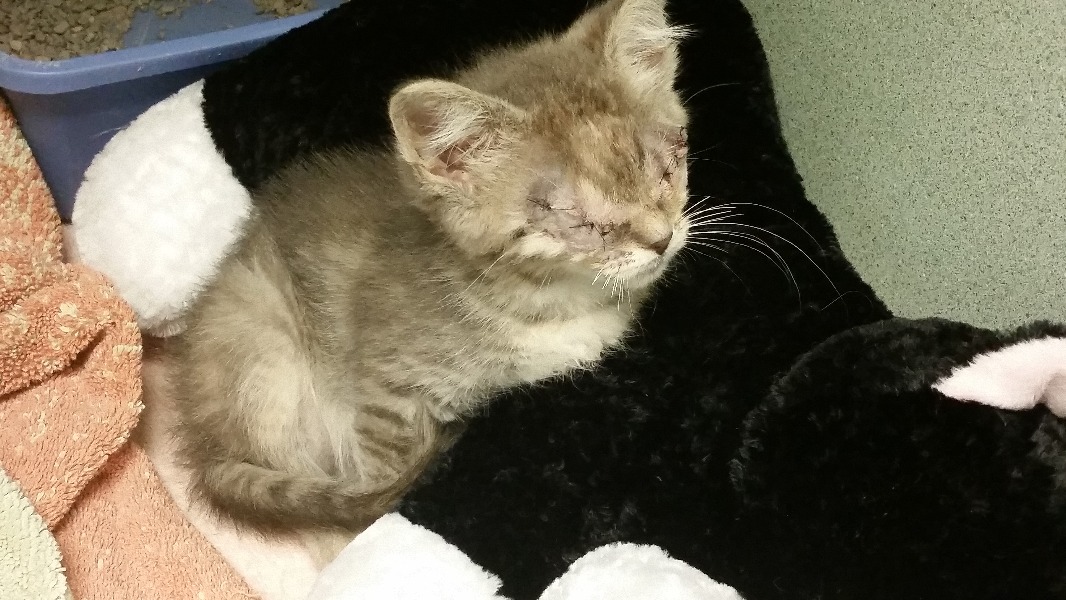 Animal lovers are awesome! Over $1500 was donated for Stevie's surgery. That money came very close to covering the surgery. Thanks!
8-9-15-update: Stevie is doing great! She is getting better and better at making her way around her kitty condo. She is a very alert little girl who loves attention. She still has a lot of medical needs that need to be completed before she can go to her foster home, and Reuben's Room will be covering those medical bills. So if you would still like to donate for Stevie's medical needs please use the above link that will take you to her gofundme account.
8-24-15 update: Good news-Stevie is at her foster home, and she is doing great! Of course her luxurious condo went with her, so you could say she is in her new "home away from home". According to her foster mom she is still a little cuddler. What a little sweetie!
9-5-15 Well, hopefully this will be our last update. Stevie was fostered by a former client of Kentwood Cat Clinic, and that foster home has turned into a permanent home! While we are still in the process of completing her medical work, she shares that home with two other cats and gets along great with those cats. The other cats play with Stevie, groom her and sleep with her. Rumor has it she quickly became a little lover girl and a real cudler. We will be posting a current picture soon.
Again-thank you to everyone who helped save this little blind gal!